The D.C. Auditor recently submitted a letter to the D.C. Council referencing AJE's Senior Staff Attorney Stacey Eunnae's testimony at this year's DCPS Performance Oversight Hearing that "there are certain DCPS schools considered so 'elite,' they simply refuse to comply with special education laws and DCPS central leadership does nothing about it." Ms. Eunnae testified about the absence, and improbably low enrollment, of students with disabilities in the District's top selective schools.  The data and conclusions in the D.C. Auditor's recent report affirms AJE's testimony and reflects what we know is true from conversations we have with families every day — students with disabilities are unwelcome and excluded from the District's highest academic performing schools.
In the chart below, presented in the Auditor's letter, students with disabilities are underrepresented in all selective schools and are completely absent at Banneker High School and School Without Walls. Several of the schools with the lowest reported numbers of students with disabilities have been on the receiving end of much praise and celebration from DCPS central leadership, including "Principal of the Year" awards and the opportunity to host visits from President Barack and Michelle Obama.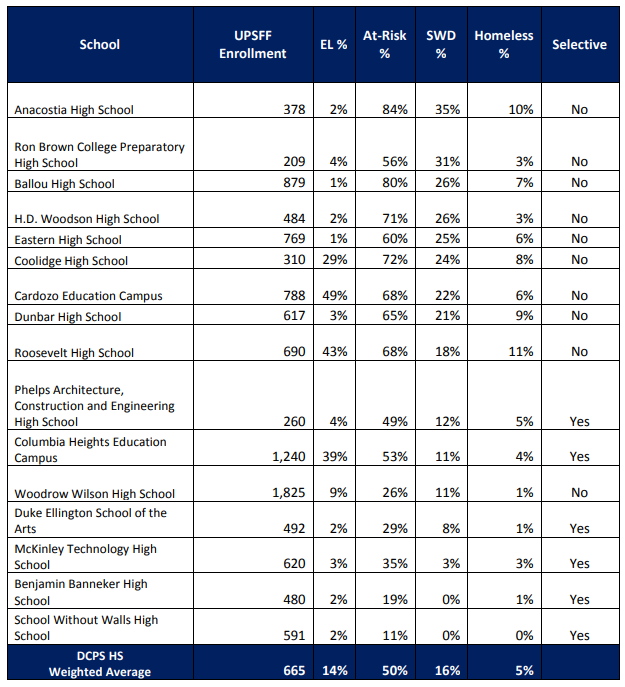 You can view the complete letter from the DC Auditor to the Council here.
All students deserve access to selective programs, and we know that there are students with disabilities who would thrive in these programs, if only they were able to attend.  We urge DCPS, OSSE and the Council to move quickly to make certain that all students in DC, including those with disabilities, have access to the full range of programs available within DCPS, including selective schools.
ODCA.Mendelson.Grosso.5.24.19-1