AJE wants to make sure that families are aware of some important changes happening now that the public health emergency has ended. Since the COVID-19 virus struck in March 2020, the District has not required Medicaid beneficiaries to renew their health coverage as usual. As of April 1, 2023, all Medicaid beneficiaries should renew their health coverage by or before June 30, 2024. Make sure your contact information is updated to know when to renew!
Check your Mail for a Medicaid Renewal Notification Letter
When your Medicaid health coverage is up for renewal, DHCF will send a letter to the address you gave when you applied for health coverage. If that address is no longer where you receive mail, you must update your contact information on District Direct as soon as possible at districtdirect.dc.gov!
What is District Direct? How do I use It?
District Direct is the District's online portal for applying or reapplying for social service benefits and it is the best place to update your contact information so you receive important updates and know when it's time to renew your health coverage. Please visit and register today! Click here for step-by-step video instructions on how to register and connect your account on District Direct.
When will I receive my Medicaid Renewal letter in the mail and what do I do with it? 
When your Medicaid coverage is up for renewal, you will be notified through a packet in the mail. Click here to view a sample notice and find notice information. It will contain instructions for renewal.
Your packet will contain instructions for renewal. You may renew your Medicaid by:
Going online to visit https://districtdirect.dc.gov/ or download the District Direct mobile app through the Apple App Store or Google Play and reapply through District Direct;
Mailing it back by following the instructions in the Redetermination Packet you received;
Visiting one of the District's Service Centers to drop it off or apply with the assistance of a service center worker -click for hours and locations.
Getting assistance from your assigned case manager, long-term care provider, or service coordinator if you have one; or
Faxing your application to 202-671-4400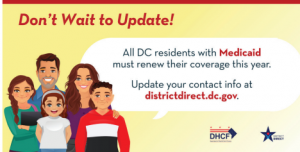 Helpful links & documents
You may find recordings of past meetings and videos used in trainings (and a lot else!) here – https://dhcf.dc.gov/medicaid-renewal