AJE is happy to share this important news from our friends at Access Smithsonian about their popular Morning at the Museum program (MATM).  We encourage AJE families to complete the survey below so that when MATM is able to return, it can be even better.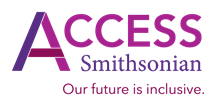 As many of you may know, the National Zoo (https://nationalzoo.si.edu/visit/welcome-back-zoo) and the Udvar-Hazy Center (https://airandspace.si.edu/udvar-hazy-center) reopened in late July and are welcoming a limited number of visitors each day, using timed entry passes. Access Smithsonian anticipates this process will continue as other Smithsonian museums begin to reopen later this year. However, no official dates have been set for any of the other SI museums to reopen. Even as the museums do reopen, attendance will be extremely limited with minimal programming. After careful consideration and consultation with the MATM committee members, the Smithsonian's COVID-19 Response Team, and the Smithsonian's Reopening Taskforce, we have made the difficult decision to cancel all in-person MATM programs for the remainder of 2020. While this is certainly not the ending I'd planned for, Access Smithsonian fully supports our colleagues' recommendations. The health and safety of our visitors, staff, and volunteers must remain our highest priority.
Like many other programs, we will be moving Morning at the Museum to a virtual space – we ealize that for many of you, the most exciting part of MATM is being in the building. Even though we cannot offer that option right now, my team will do everything we can to provide your families with fun, stress-free virtual programs this fall. To help us create the best possible experience, please take a few minutes to complete this very short survey about virtual programming. We need your feedback!