Summer Referrals to Early Stages
The summer months are a time for many families to make decisions about where their children will attend school. A family's enrollment decision may impact the Early Stages process for District children aged 2 years 8 months to 5 years 10 months.
Starting June 1, Early Stages will evaluate any DCPS-enrolled or pre-enrolled children referred during the summer months. Beginning on the first day of SY22-23, DCPS schools will resume responsibility for accepting referrals and evaluating their enrolled students.
For children who have already attended or are enrolling in a public charter school, Early Stages cannot evaluate or determine eligibility for special education services. We will transfer any referrals we receive for charter-enrolled children to their appropriate charter school.
Early Stages continues to provide developmental screenings and evaluations for any referred District child who attends a child care center or a private school or who is homeschooled or not yet enrolled.
As always, Early Stages is happy to answer any questions you might have. We look forward to hearing from you via email at info@earlystagesdc.org or phone at 202-698-8037.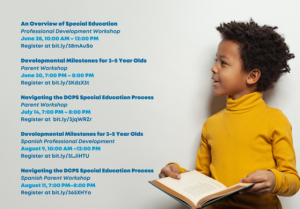 Refer a Child
Anyone may refer a child between the ages of 2 years 8 months and 5 years 10 months to Early Stages for a screening. Click here to refer to Early Stages. For younger children, click here to refer to Strong Start. For older children, contact the child's school. If you have any questions about where to refer a child, call or email Early Stages, and we will point you in the right direction.
Learn with Early Stages
Early Stages offers free workshops on many early childhood topics. Individual professionals and parents/guardians may attend one of our public workshops. Visit Our Calendar to view all upcoming public workshops. Professionals may also sign up as  single attendees through OSSE's DC Child Care Connections (DC CCC). Organizations interested in educating a team of professionals or a group of parents/ guardians may book a group workshop by emailing education@earlystagesdc.org. Visit Workshops to learn more about learning opportunities with Early Stages.