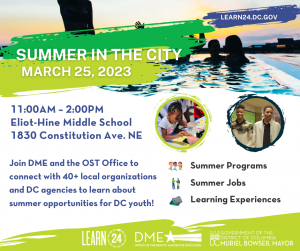 On Saturday, March 25, 2023, from 11:00 am – 2:00 pm, join the Office of the Deputy Mayor for Education's (DME) Office of Out of School Time Grants and Youth Outcomes (OST Office) for a resource-gathering and networking event. DC community members will hear directly from local partner organizations and DC agencies about summer programs, summer jobs, learning experiences, and more.
More than 40 partners will be present to talk about the different summer opportunities available for school-aged youth during the summer months.
Register to attend today!