If Supported Decision Making is part of your self-care plan, or the self-care plan of someone you love, you may want to explore these resources from the 
Council for Court Excellence
.
When Adults Need Help Making Decisions and Managing Daily Affairs, explains in non-technical language some of the resources for people in D.C. who, because of illness, disability, aging, injury or dementia, may need help from a third party (particularly now due to their increased COVID-19 vulnerabilities).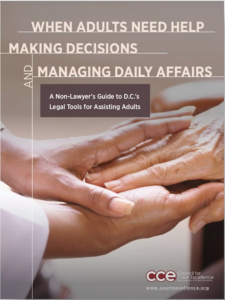 This guide explains how another family member or loved one can legally help them make important medical decisions, handle their finances, or deal with responsibilities of everyday life. These include options like creating a "Supported Decision Making Agreement," designating a "Substitute Health Care Decision-Maker," establishing guardianships and conservatorships, among others.
The Council for Court Excellence has even created short supplemental videos for two of the When Adults Need Help tools mentioned above. You can access the Supported Decision Making Agreements video by clicking here, and the Substitute Health Care Decision-Maker video here.