AJE is happy to share this resource with our families – and we hope you find it helpful!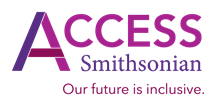 Ashley & Emma from ACCESS SMITHSONIAN's Favorite Activities for the Week:
Folklife Festival Streaming Events: https://festival.si.edu/schedule
National Museum of African American History and Culture's Reading Through the Galleries Summer Reading Challenge (Teens & Up): https://nmaahc.si.edu/learn/students/reading-through-galleries
National Zoo's Webcams: https://nationalzoo.si.edu/webcams
Spark!Lab's Do Try This At Home (Hands-on/Digital Activities for all ages): https://invention.si.edu/try/do-try-home
National Museum of African Art's Stories of Heroic Deeds: June 15–August 15, 2020 (Grades 3–6); Did you make a difference in someone's life? What is your story? The National Museum of African Art (NMAfA) wants to hear from you. What great deeds can you talk about? Stories will be featured on NMAfA's website or social media. Send your story (only one submission per person) as a Word doc to penicp@si.edu. Please include your full name, age, and parent's phone number and email address.
Monday, June 29
11:00 a.m.: Natural History's Live with Jellyfish Webinar (Kids & up): https://naturalhistory.si.edu/events/video-webinar-live-jellyfish
12:15 p.m.: Freer Gallery's Meditation and Mindfulness: https://asia.si.edu/events-overview/?trumbaEmbed=view%3Devent%26eventid%3D145240697
Tuesday, June 30
11:00 a.m.: National Portrait Gallery's Young Portrait Explorers (Pre-K & up): https://npg.si.edu/event/young-portrait-explorers-11
2:00 p.m.: National Museum of African Art's Traditional West African Dance Workshop (Kid Friendly): https://us02web.zoom.us/j/81855985064?pwd=S3FpWm1pN3p5elVlR2dPTXRjR3lHQT09; Meeting ID: 818 5598 5064; Password: 000833
Wednesday, July 1
11:00 a.m.: National Portrait Gallery's Story Time (Kids): https://npg.si.edu/event/story-time-13
12:00 p.m.: National Museum of African American History & Culture's Artists at Home (Teens & Up): https://nmaahc.si.edu/learn/students/artists-home
Thursday, July 2
10:00 a.m.: Natural History's Career Dives: Live Conversation with Marine Scientist (Teens & Young Adults): https://naturalhistory.si.edu/events/career-dives-live-conversations-marine-science-marinegeos-dean-janiak
12:00 p.m.: Smithsonian Garden's Let's Talk Gardens (All ages): https://smithsonian.zoom.us/webinar/register/WN_HLMlUpP3QQK5qxsEjQT6xg
Friday, July 3
11:00 a.m.: National Portrait Gallery's Open Studio (Kids & Up): https://npg.si.edu/event/open-studio-13
12:00 p.m.: Folklife Festival's Barbecue Cooking Demonstration (All ages): https://festival.si.edu/event/barbecue-across-cultures
Saturday, July 4
SI-Wide Resources:
National Museum of African American History & Culture's Talking about Race: https://nmaahc.si.edu/learn/talking-about-race
Smithsonian Cares Website: https://www.si.edu/cares
Smithsonian For Kids: https://www.si.edu/kids
Smithsonian For Teachers: https://www.si.edu/educators
Tween Tribune (Kindergarten & up): https://www.tweentribune.com/
Discovery Theatre's Creative Tools (All ages, teachers, & parents): https://creativetools.si.edu/
Learning Lab's Talk with Me Toolkits (Parents & Teachers): https://learninglab.si.edu/profile/45521
Virtual Tours:
Smithsonian American Art Museum: https://artsandculture.google.com/streetview/smithsonian-american-art-museum/ywEOjAeoI896FQ?sv_lng=-77.0224807&sv_lat=38.8978573&sv_h=42.545602349691116&sv_p=0.957047214755363&sv_pid=H1YzyddM2E0qqa78uHcZbA&sv_z=1.0000000000000002
National Museum of Natural History Virtual Tours (For All Ages) – https://naturalhistory.si.edu/visit/virtual-tour
Museum Activities:
SAAM's Crafting from Home (Great for our artists!): https://americanart.si.edu/crafting
Smithsonian's Central Website for Digital Resources (Smithsonian Cares): https://www.si.edu/cares
Spark!Lab's Do Try This At Home (Hands-on/Digital Activities for all ages): https://invention.si.edu/try/do-try-home
National Air and Space Museum's Air and Space Anywhere Resources (Kid & Teen Friendly) – https://airandspace.si.edu/anywhere
SEEC's (Smithsonian's Early Enrichment Center) Resource/Activity List (Pre-K Friendly): https://seecstories.com/covid-19-learning-resources/preschool-and-kindergarten-lessons/
National Museum of the American Indian's Lessons/Resources (Kid & Teen Friendly): https://americanindian.si.edu/nk360/resources.cshtml
National Postal Museum's Curriculum Guide (Kid & Teen Friendly): https://postalmuseum.si.edu/curriculum-guides
National Portrait Gallery's Visit at Home Resources (Kid & Teen Friendly) – https://npg.si.edu/visit
Smithsonian Libraries' Color Our Collections (For all Ages) – https://library.si.edu/2018ColorOurCollections
Smithsonian Science Education Center's Online Game Center (Kid & Teen Friendly) – https://ssec.si.edu/game-center
Smithsonian's Explore and Learn (Teen Friendly) – https://www.si.edu/learn-explore
Cooper Hewitt's Design It Yourself Activities (Kid & Teen Friendly): https://learninglab.si.edu/search?st=Design+It+Yourself&st_op=and&item_type=collections
Hirshhorn Kids at Home (Kid & Teen Friendly): https://learninglab.si.edu/profile/HirshhornKidsAtHome
National Museum of African American History & Culture's Digital Resources Page (Teen Friendly): https://nmaahc.si.edu/explore/nmaahc-digital-resources-guide
Videos:
National Museum of Natural History's The Doctor is In YouTube Channel – https://www.youtube.com/channel/UCEoXRsqyFvc4Cuq8exbVLaw/videos
Smithsonian Education's YouTube Channel (programs are archived here): https://www.youtube.com/user/SmithsonianEducation/videos
National Air and Space's STEM in 30 Video Series (All ages, great for Teens): https://airandspace.si.edu/event-series/stem-30