The D.C. Bar Pro Bono Center's next Advice & Referral Clinic will take place on Saturday, May 20, 2023. Our clinic will operate IN-PERSON from 10:00 a.m. to 12:00 p.m and will be held at:
Bread for the City's Michelle Obama SE Center
1700 Good Hope Road SE
Washington, DC
(Masks are required)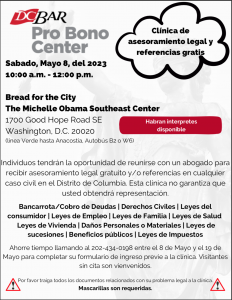 You will be paired with attorneys for consultations the same day. The attorneys will provide free advice and brief legal services to individuals regarding the civil matters identified below and governed by D.C. or federal law:
Consumer law (including bankruptcy)
Employment law
Family law (including civil protection orders)
Housing law
Personal injury/torts
Probate matters (limited to advice and medical directives)
Public benefits (e.g. TANF/SNAP and SSI/SSDI)
Healthcare access (e.g. denial of coverage)
Tax law
Please note, you do not have to fall within a particular income level to utilize this free service.
Remaining 2023 A&R Clinic Calendar:
5/20/23
6/24/23
7/29/23
9/23/23
10/21/23
11/18/23