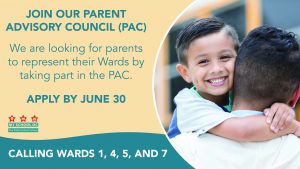 My School DC – the common application and public school lottery for DC Public Schools (DCPS) and public charter schools in DC (PK3 through grade 12) – is actively recruiting for parents and guardians to participate in its Parent Advisory Council (PAC) with a focus on members from Wards 1, 4, 5 and 7.
Parent voices are critical to ensuring that My School DC is an equitable and valuable resource for families. Representatives who serve on the My School DC PAC learn about My School DC priorities, provide input on the design and implementation of policies, programming and new initiatives, serve as ambassadors of information to their respective schools and communities and advise the Common Lottery Board – My School DC's governing body – on major policy decisions. The PAC is comprised of volunteers from all eight wards of the District who represent both DCPS and public charter schools.
All interested individuals can apply here: bit.ly/PACAppSY2425. Please review the membership criteria and meeting scheduleprior to applying.
For more information, please email info.myschooldc@dc.gov.